It's been a while since I posted a blog. I know, I know... I'm horrible.
Well, my Goddaughter's baptism was on April 19th. I must say that I had never participated in a Catholic baptism before. It was quite a nice ceremony. And it was definitely awesome to see a lot of family there. We were saddened by a last minute change; Brian is not Natilee's Godfather. It's saddening. But, I guess that's a rule. One of the Godparents must participate in the Catholic faith. So, alas, my Uncle Tom is Natilee's Godfather. It wasn't what Sara, Natilee's mother, originally wanted. She was unaware of the rule. The baptism was nice, overall. And Natilee was just beaming up there. I was very impressed that she didn't cry when the water was being poured on her head. As a matter of fact, she didn't cry until about 10 minutes after all of the pictures with family were taken.
I'm still very humbled with this opportunity. I was almost in tears when Sara originally asked me. And I can't wait until I can spend more time with Natilee.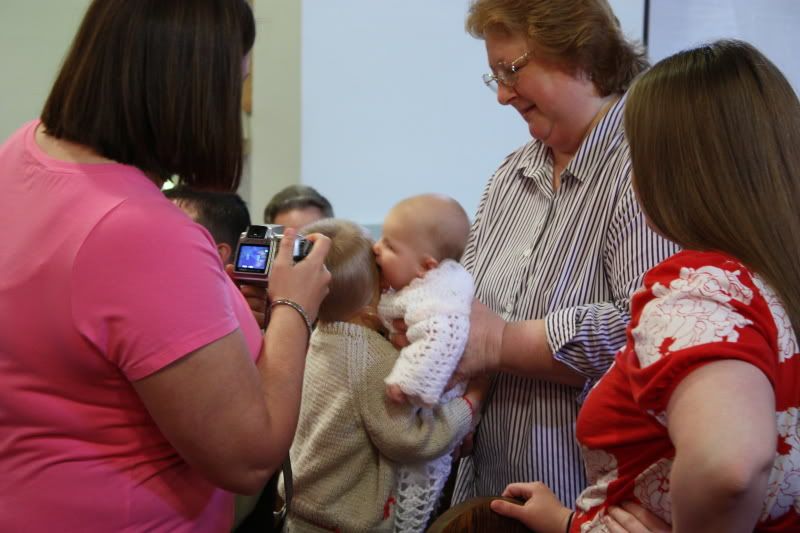 This is my little cousin Ryan (the ring bearer at the wedding) trying to give Natilee hugs and kisses. If you think this is cute, you should have heard him saying Natilee's name. It would have melted your heart.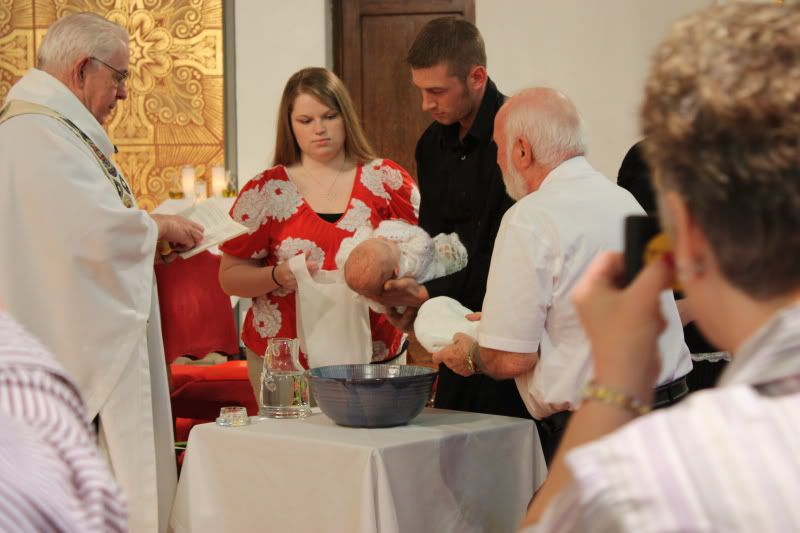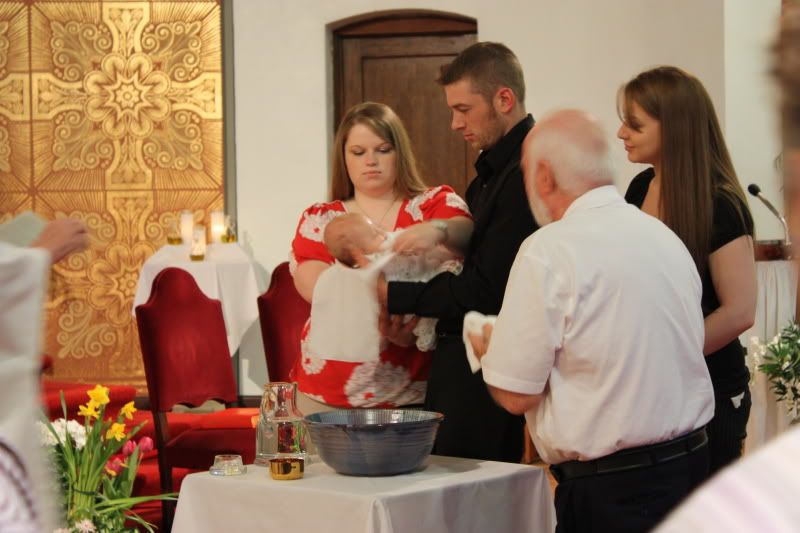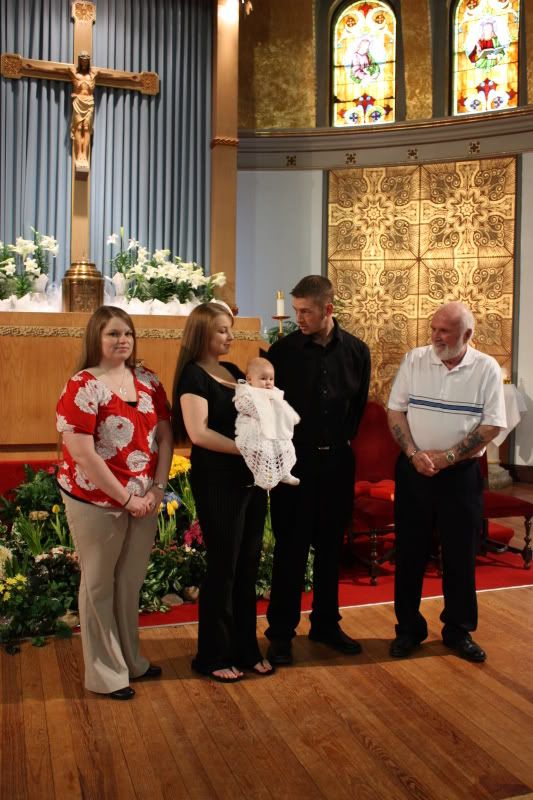 Left to Right: My beautiful self, my cousin Sara with Natilee, Ryan, and my Uncle Tom. (Myself and Tom are Natilee's Godparents.)
Tuesday we had an all staff meeting at HPS. My friend, Sarah, decided to help HPS out by answering the phones while we were meeting. She brought her very handsome son, Ike, along with her. It was pretty fun hanging around with her and catching up... And of course, playing with Ike. Ike loved the
junk
cool trinkets on my desk. Especially my slinky jr.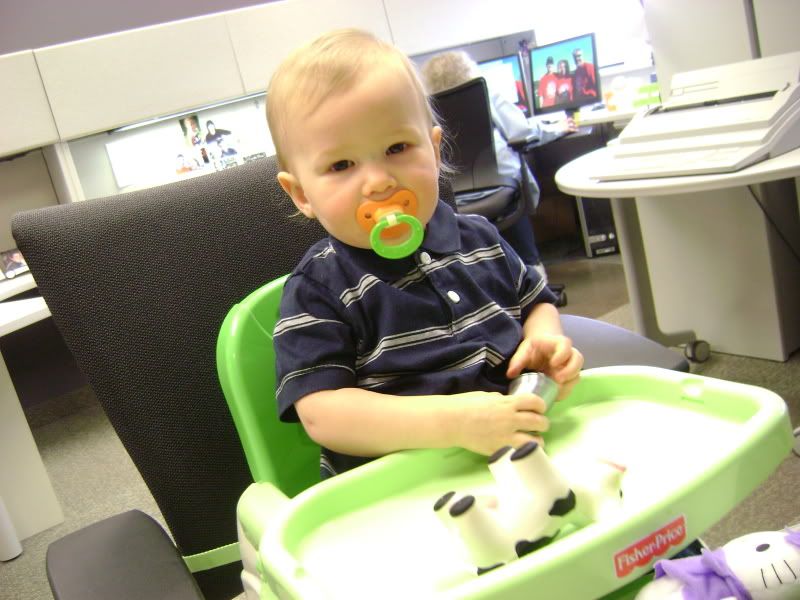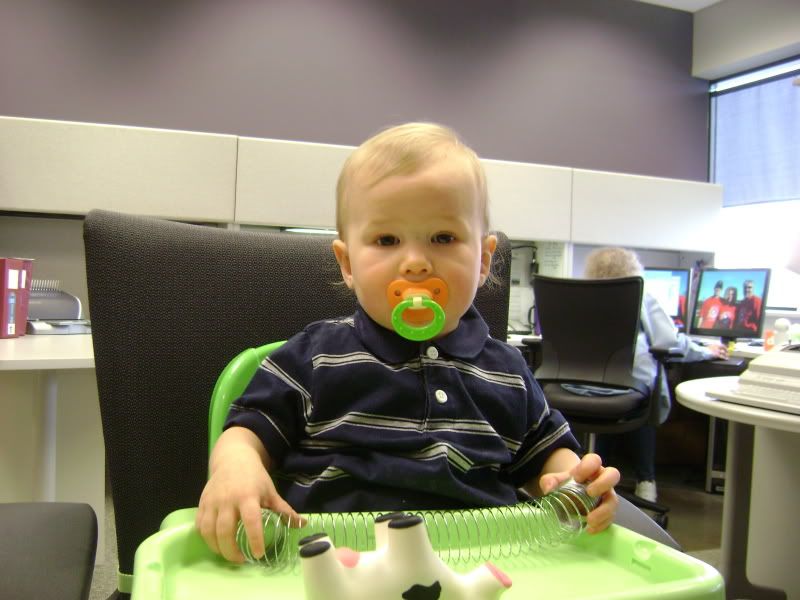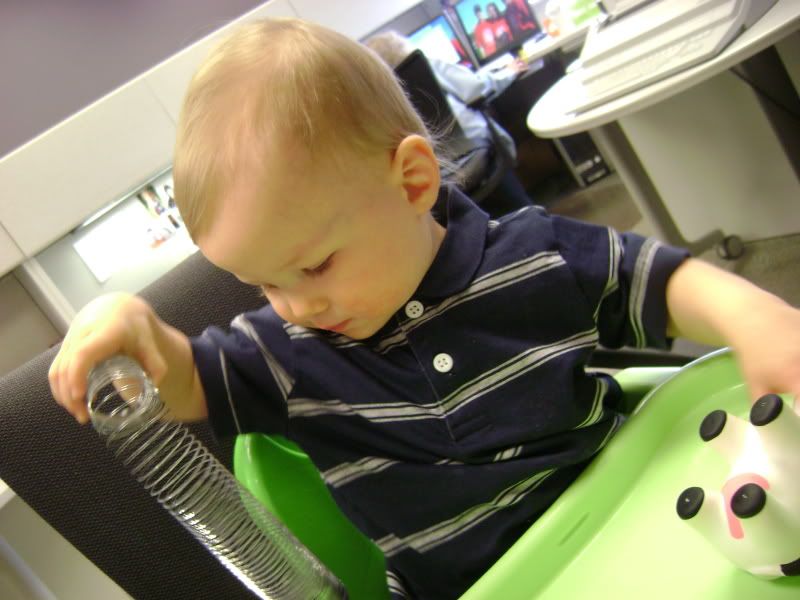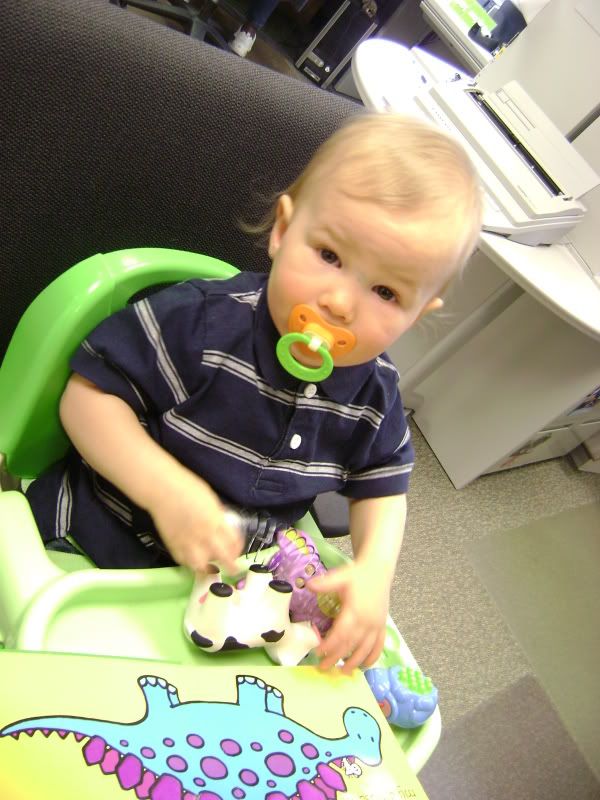 Yesterday, Brian and myself met with a gentleman named John. He'll be performing (hopefully... if he decides we're fit for marriage) our ceremony at our wedding. He's a long
loooooooong
lost cousin of mine, as well. So, it was pretty awesome getting to talk with him and share stories of yesteryear. We'll be meeting again at the
The Cracked Pepper
next month for a more extensive Q and A.
On a sad note, my Great Aunt Jeanetta (on my Mother's side) past away this past week. As well as my Great Uncle Royce (on my Father's side).
I did not know my Great Aunt Jeneatta very well. I think I have only been in her presence about 15 times in my entire life. Her daughter, Sheila Marie, has been a second mother to me. I'm deeply saddened at her loss and the pain that she's going through with losing a mother. And Brian and I will be there at Aunt Jeanetta's funeral to show our support for her.
And now, I'll leave you with a few humoring pictures to lift the mood from my last paragraph...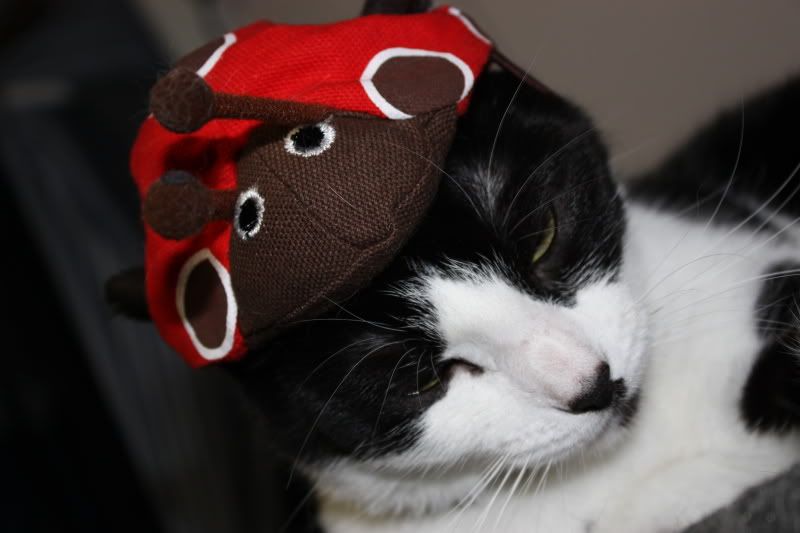 Georgia with a lady bug hat.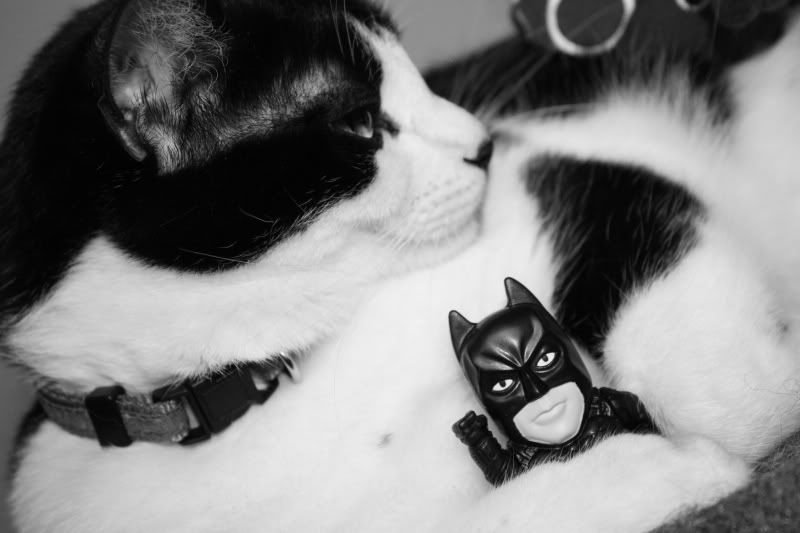 And here's Georgia with her celebrity crush, Batman!