Hello, my wonderful readers!
(I love all four of you... ;) )
Lots of things are happening. Brian and I have 94 days
Holy crap!
until the wedding. Crazy! I'm surprised at how fast it's going. Although I shouldn't be since this is exactly what my friends told me would happen...
Brian and I are going to be Godparents! That's so awesome. My cousin, Sara, (who is my maid of honor) had a beautiful bouncing
(not literally...)
baby girl in January. Her name is Natilee Rose Shay. Sara asked me about two weeks ago if Brian and I would be Natilee's Godparents. And I must say I am so honored that Sara would even consider Brian and I. Brian and I are truly happy with this decision. Natilee's baptism is on April 14th. So, I'll hopefully get a few great pictures to post on here.
I may have a pastor for the wedding. So, that's awesome. He's actually the same pastor who spoke at my Grandmother's funeral a couple years ago. He's amazing. He's from
The First Baptist Church of Hastings.
He's a great guy. So, hopefully I'll be able to have him perform our marriage ceremony. The problem with a July 4th wedding is the fact that it's a holiday. So, it makes quite a few wedding plans a bit more complicated.
Also, Brian and I are about 98.9% sure that we'll be taking an Alaskan Cruise for our honeymoon. It departs from Canada on July 8th. So, I need to get crackin' on my passport photos and get that sent out. I hear it takes about two months...
fingers are crossed...
We'll be traveling aboard the
ms Volendam.
So, YAY!
Also, here is a random video that I like:
Guaranteed Laughs!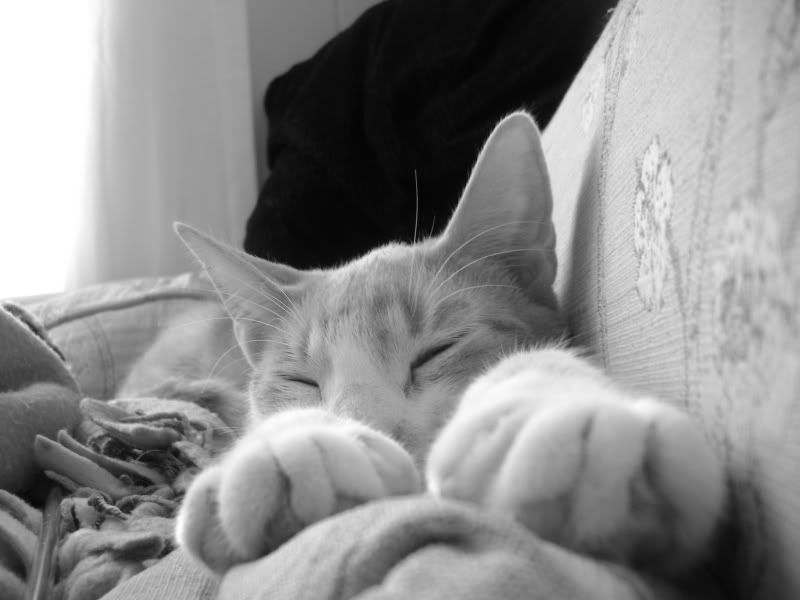 This is Cognac. Brian's kitty. This is my favorite shot of him.
END.