(Title Name; I'm listening to the White Stripes...)
Well, things are gettin' busy. I've got so many things coming up the next couple of weekends and to be honest and I'm a little overwhelmed. I know I'll get through this. I've been trying to relax and read when I get the chance, too. Work seems to be getting stressful at times, too.
Brian and I went and saw
Inkheart
last night. I have been wanting to read the book for several years, but I guess I just never got around to it. The movie was really good. Although in the first 5 minutes Brian had to bring up the fact that Brendan Fraser's daughter had an English accent... When, even though they lived in an English country, Brendan's character did NOT. Which, I must admit, did annoy me throughout the movie. But basically the plot line is about a man who is a "silver tongue." Which means that when he reads book out loud, the characters come to life. The only setback is the fact that when he reads and someone comes out of the book, someone goes into the book. So, he spent most of the movie with his daughter trying to get his wife back. It's a very interesting
movie.
Coming up in the next couple of weeks I'll be getting together with the bridesmaids (date to be determined), meeting with the photographer, buying Brian's ring, helping Brian set up stuff in his Dad's dental office, getting together with the best man and his wife, and getting together with Sarahdonna and Yvette (and Ike?) and heading up to the Butterfly Garden in Grand Rapids. Which, I would love for Brian to go. We were actually just talking about going a couple weeks ago.
Currently I am on my laptop at the office with Brian "helping" him with his Dad's computers for his Dad's dental office. I think I'm mainly just keeping him company. I brought my book to read. I'm still reading
Breaking Dawn
by Stephanie Meyer. It's the fourth installment of the
Twilight
series.
I guess that's about it for now. I will leave you with....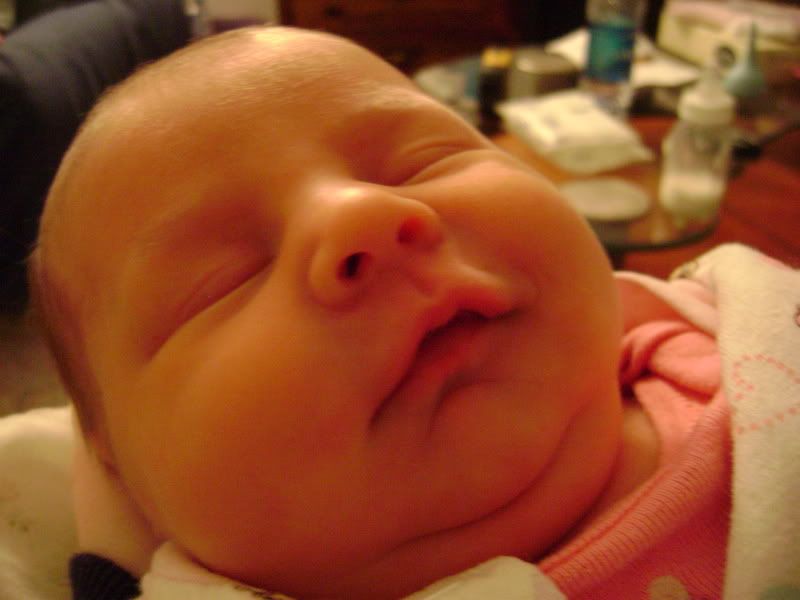 This is my newest family member, Natilee. She is now 12 pounds. Her mother and her stopped into the office earlier this week to see me. I got wonderful news that the controlling and egotistical father of Natilee is mostly out of the picture.