Yesterday I got new tires put on my car. It took darned near forever, but well worth the long wait. They had a few minor complications, which involved me not being able to leave until it was absolutely fixed. I believe Brian was bored out of his mind, though. Which, I felt really bad about. He suggested that we take two vehicles so that him and I could go do something while my car was being worked on. Buuuuut, I didn't want him to waste all of that gas.
After that, we met my brother, Robert, for lunch at the ever so enchanting Wendy's. I got the same thing I always do. Nothing special, just routine. But, Robert makes almost every "regular" situation seem exciting. We laugh nonstop in Robert's presence. He really should become a comedian. I've told him time and time again.
I managed to straighten my hair. It's well over two feet long now. It's gorgeous. But it's a royal pain. And I get overheated while it's down. As we were discarding our garbage at the nearest trash can, I glanced over for a brief moment at two men obviously ogling at me. (Brian had noticed it,too.) I would like to think that they were just admiring my hair or my beauty, or whatever... But it was the look on their faces that reminded me once again that at times I do attract "the creepies."
Sigh...
Robert, Brian, and I decided that maybe we would try heading to the mall that day. My stomach has been getting better week after week. And I've been tweaking the dosages of my prescriptions to where I'm so close to being comfortable again.
We went to Hot Topic, where I bought some surgical stainless steel horse shoe earrings for my cartilage piercing, a
Twilight
pin that says "Team Edward," on it, and a pin that says "Bacon Makes Everything Better." (I mainly bought that one for Robert - thought he won't take it - because of his profound love for bacon.)
We headed to Spencer's. I am almost always offended in some way while I am in that store, however, I still can't resist going in there. I bought a few
Nightmare Before Christmas
items on sale there. As I was being run up, the cashier was talking to another worker. It seemed that almost every word was inappropriate for anyone. I will not go into much detail, though.
Sigh, again...
We then headed to Bath and Body Works. Brian and I absolutely love their antibacterial hand soap. And to our satisfactory, it was on sale! We bought several bottles.
We went around to several more places before we decided to just head out.
We didn't get very far. The Celebration Cinema right next to the mall plays older moves for just $3.50 a ticket. So, we decided to see
Yes Man
starring Jim Carrey. That movie was hilarious. I enjoyed it.
After the movie we were quite hungry. Brian had been hankering for some Arby's. So, that's where we headed. It was over a hour of the three of us laughing. Dinner consisted of me laughing at the tops of my lungs, getting weird looks from the other meal goers, shooting straw wrappers at each other, Brian force feeding me peanut M&M's from the movie, Robert laughing until he cried, Brian lying to a worker telling her that everything was good when not more the 15 seconds before she asked us how things were that he stated his Roast "Burger" was not good, me almost falling under the table, and many more hilarious moments.
We then decided to go to Best Buy. I bought the Theory of a Deadman cd and the Golden Compass for $6.99.
And then we decided to head back. Robert had been up since 4:00 a.m. and it was after 9:00 p.m. And despite the fact that he was tired, Robert had us laughing all the way back to Barry County.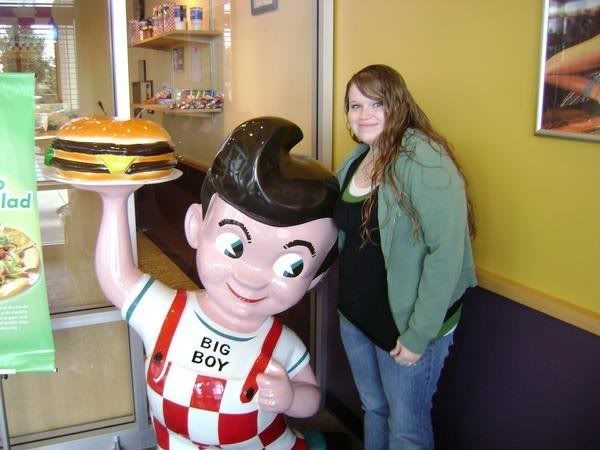 I like to joke and say that I'm standing with my brother, Robert, in this picture. When he styles his hair, he does in fact look like Big Boy.