So, while I was helping Brian "set up" those computers for his Dad's dental office, I ended up falling asleep on the office floor using a sweater and a piece of
Styrofoam
as a pillow. It wasn't entirely comfortable. I woke up to the lovely sound of my cell phone ring. 'Twas my brother, Robert. While Brian was working I talked with Robert for over an hour. We kept laughing about this episode of
The Simpsons
where Bart worked in a Burlesque house. Here is the
clip
we can't help but laugh at. :)
Sunday, the three of us went to see the movie
The Watchmen.
I personally found the movie disturbing.
Guess what? There are
116
days until I get married!
(Go ahead, start singing "The Final Countdown." You know you want to... ;) )
That is all.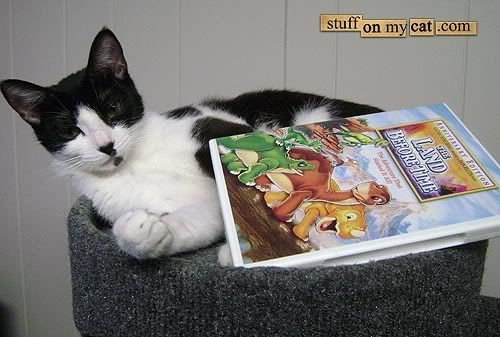 One of my favorite websites,
Stuff on my Cat
, features an hourly contest. Basically what you do is take a picture of something on your cat and send it in. Then, you hope that it's good enough to be featured on the website. Well, last October I sent in a picture of Brian's cat, Georgia. And she made it!